Reforesting an Island
One man who has spent most of his life acting from a deep sense of responsibility to Mother Nature was the subject of the popular short video, The Forest Man of India.
As a teenager, Jadav "Molai" Payeng was disturbed when he noticed many snakes dying, and fewer migratory birds near his Mishing tribal village in Assam.
Village elders in the nearby Deori community told him it was because floods had eroded the forest cover that had protected the wildlife.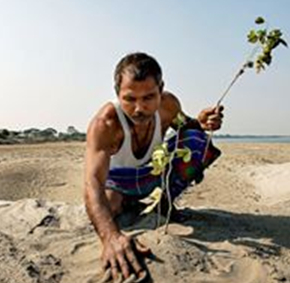 Jadav Payeng planting a tree
Paveng took the trouble to contact the forest department. Their response was a suggestion that he plant trees himself. And so he did.

In fact, Payeng made daily visits to Majuli Island in the River Brahmaputra for 30 years. When he started, the island was a deserted, empty sandbar. Each day he planted a few saplings. On his first trip, he took 50 seeds and 25 bamboo plants, given to him by the Deoris.

Over the years he collected different kinds of seeds from other indigenous groups. With his steady care and attention, slowly the sandbar began to support life. Locals started calling him "Molai", which means 'forest'.

"I knew I had to make the planet greener," Payeng told thebetterindia.com.

His efforts have had bountiful results. He has reforested a lush jungle of 1,360 acres (more than 1.5 times the size of New York's Central Park). Now known as Molai Forest, it provides shelter for a host of wild animals: tigers, rhinos, monkeys, deer, rabbits, and many kinds of birds. During half the year it even receives visits from a group of more than 100 elephants.
There are several thousand trees of various kinds, including baheda, teak, gambhari, custard apple, star fruit, gulmohur, devil's tree, tamarind, mulberry, mango, jackfruit, plum, peach and banyan. There is also elephant grass, medicinal plants, and more than 300 hectares of bamboo.

Payeng couldn't carry all the water he needed to water his large, growing jungle, so he developed a method of building a bamboo platform over each sapling, on which sat an earthen pot with small holes in it. Water would drip down through the holes and water the saplings through the week.

In 2015, Payeng was invited to speak at the United Nations Conference on Climate Change in Paris. Referring to the role trees play in fighting climate change - storing carbon, creating oxygen, and cleaning the air -- he asked the 20,000 attendees, "We meet for the sake of economy, but what are we doing for oxygen? Only trees can give you oxygen."

The same year, Payeng was honored with India's fourth-highest civilian award, "Padma Shri". Though he has received much recognition for his environmental work, Payeng still lives very simply in a hut in the forest with his wife and three children. They keep cows and buffalo, their income coming from sales of the animals' milk.

He is planning to start yet another forest on another sandbar island of the Brahmaputra, as well as to plant trees along two highways near the same river, in an area badly deforested by the 15-year construction of India's longest road and railway bridge project.

Many groups and individuals have honored Payeng for his contribution to India and the world, and his incredible demonstration of what one dedicated person can achieve, yet perhaps few of us truly appreciate its great value and importance.

Payeng, like Amma, has a deep intuitive knowledge that forests and nature are essential to continued life on earth. "Jungle is my life," he said simply, in an interview with The Hindu newspaper. "It is your life too."