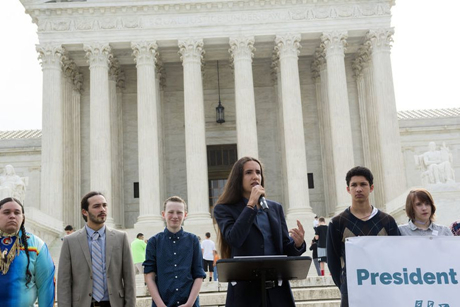 Earth Guardians youth director Xiuhtezcatl Martinez,speaks outside the US Supreme Court in 2017.
Robin Loznak/Our Children's Trust
Juliana v United States, also known as the Children's Climate lawsuit, includes 21 plaintiffs between the ages of 11 and 22 and argues that the US government undertook policies that contributed to climate change, thereby causing irreparable harm to young people and denying them a safe climate. As relief, they want the government to pursue policies to keep global warming in check.

According to Wikipedia, "The plaintiffs, represented by the non-profit organization Our Children's Trust, include Xiuhtezcatl Martinez, the members of Martinez's organization Earth Guardians, and on behalf of future generations represented by climatologist James Hansen of Columbia University. While previous lawsuits in a similar vein have been dismissed by U.S. courts, Juliana v. United States gained attention in 2016 when U.S. District Court of Oregon Judge Ann Aiken upheld the idea that access to a clean environment was a fundamental right, allowing the case to proceed. At the beginning of her opinion denying a motion to dismiss, Judge Aiken wrote, "This is no ordinary lawsuit."
On Nov. 2, 2018 the US Supreme Court refused to dismiss the lawsuit. Originally filed in the U.S. district court in Eugene, OR, it claims the federal government encouraged the production of oil, gas and other fossil fuels, causing the planet to warm and infringing on several of the plaintiffs' fundamental rights. It lists examples that the government knew the Earth was warming as early as 1965, and it requests a court order for the government to decrease carbon dioxide emissions as well as the creation of a national plan to "restore Earth's energy balance and "stabilize the climate system.

"The breadth of respondents' claims is striking," the Supreme Court had said in an earlier court order, but it also said the claims should not be dismissed before going to trial.

For more information about this landmark case, listen to the podcast, No Ordinary Lawsuit. It is available from iTunes and other popular podcast apps. Our Children's Trust partnered with independent producers to bring listeners behind the scenes of the Juliana v. United States lawsuit.