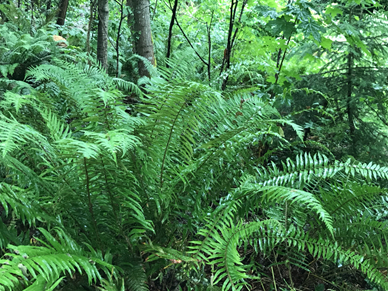 "Nature on its own is indeed beautiful and clean. The hills and rivers do not need us to clean them. In fact, it is nature's water which cleans us; it is trees which purify air for us. Because we have littered, we have spoilt its pristine beauty." - Amma
I once read that every piece of plastic that ever existed still exists. While that statement has been challenged (politifact.com), there is no disputing the fact that plastics decompose very slowly and some may never decompose.

We have certainly seen evidence of the long life of plastic in the GreenFriends Greenbelt Restoration Project that Seattle satsang members are leading. The areas we are restoring have been covered by blackberry, ivy and bindweed vines for 30-60 years. With the aid of Green Seattle Partnership, the City of Seattle Parks Department, and volunteer groups such as students from the University of Washington's Introduction to Environmental Science course, we are helping to return this stretch of Greenbelt to the beautiful forest it once was.

When the Seattle Parks Department staff initially cut down the blackberry vines for us, they discovered the foundation of a house that had burned down in the 1950's. We found many plastic items in or near that foundation. It appears that a lot of plastic trash was also thrown into the greenbelt by nearby residents and passersby. My house borders this Greenbelt property. When I cleaned out my bird houses last winter, I found a sizable bird nest. I was shocked by the amount of plastic a bird had used in constructing it (Photo 1). Photo 2 shows the pile of plastic I removed when I took the nest apart.