Tirtha bought two new cotton bags in Amritapuri to replace a couple of the synthetic carry bags she's been using at home in Victoria, BC. She has been reading about how synthetic bags can cause microparticle plastic pollution when they're washed, which causes problems for small ocean creatures that mistake them for food. The microparticles are already moving up the food chain and being found in our food and drinking water.
Donna Oris from Salt Spring Island, BC, is showing us a coconut 'to save'. The top is cut off but not opened. You can use a knife to open it within 24 hours or more. Way better for you and the environment than a plastic bottle of coconut water, which also wouldn't keep as long.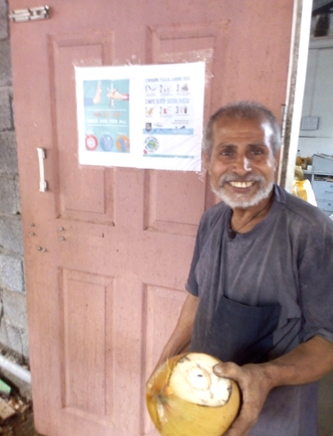 At the coconut stall in Amritapuri, Hari encourages us to use alternatives to plastic straws, such as metal straws, or pouring coconut water into tiffins. Diya sent the posters to Tirtha, who had them printed up, and Hari has posted them behind his work table where everyone can see them. You can buy metal straws at the Eco Centre when you visit Amritapuri!