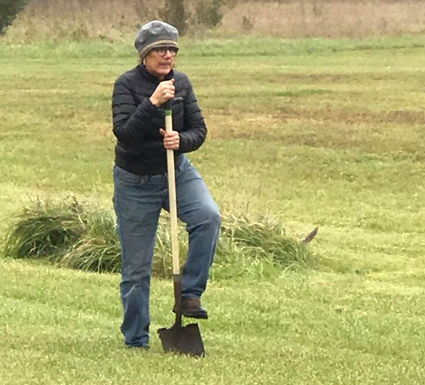 Planting a tree begins with the first shovel
Amma has raised our awareness about conservation and being part of an enduring ecosystem. Trees are a critical part of conservation since they provide habitat for numerous birds, small animals, wildflowers and understory growth. But in recent years, tree loss has increased by approximately 50% annually due to deforestation, fires, logging, mining, and natural disasters. Amma's message has been to respect the earth, grow our food, and plant more trees. 

In honor of Amma's 65th Birthday this year, the Amma Center of Michigan pledged 65 trees to be planted at Amrita Farms, an ongoing seva program in Ann Arbor, Michigan, with 15 dedicated acres, which includes an apple orchard, a vegetable garden, a sacred grove to protect native flora and fauna, bee keeping, and soil food web.

The tree planting took place on Saturday, October 27, 2018, during a crisp, but cold, frost bitten morning, as volunteers kept warm by sharing camaraderie, team work, laughter, and physical labor to plant 100 evergreen trees. Five species were planted: balsam fir, red pine, white pine, Norway spruce, white spruce. The saplings were purchased from Washtenaw County Conservation District, who also provided local expertise to handle the project. 
The saplings' roots were covered in mycorrhizal dip to help with their absorption of water and nutrients during the cold winter months. These roots had to be planted straight into the earth without any air pockets, at least 10 feet apart from each other.

Amma Center of Michigan also has a resident steward of the land, Susan Sambhavi Witt, who lives at the ashram and has years of experience as a small farmer and bee keeper. She directed the tree planting, as volunteers looked to her for guidance. Susan also coordinated volunteers and workers in the apple orchard this summer, which produced over 700 bags of apple chips that will be sold during Amma's visit to Detroit this November.  

The Amma Center of Michigan enjoyed working together in nature for nature.  We all must do our part in order to reduce emissions from deforestation and forest degradation. Tree planting symbolizes unity, love, commitment, and new beginnings as we embark on Amma's 65th year on this planet.  

For more information about the wonderful work that is being done at Amrita Farms, please visit the Amma Center of Michigan's web page.

When you plant your tree or trees, please send photos of it and/or your tree-planting stories to info@greenfriendsna.org.