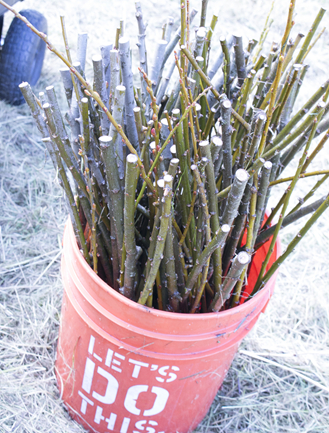 Willow stakes taken from the yard of a volunteer
M.A. Center Pacific NorthWest (PNW ) purchased the Maltby Farm in 2015 and was given the mission to farm and preserve nature on this property. In 2018, GreenFriends North America requested that everyone consider pledging to plant trees in honor of Amma's 65th birthday. PNW volunteers took up that pledge.

The M.A. Center PNW Maltby Farm reforestation and wetlands restoration project has begun in earnest. On October 13th, a small band of helpers cut down the grass and put down cardboard and mulch. Next came the planting of 257 Willow Tree stakes. More varieties of trees will be planted by Spring 2019. M. A. Center PNW is pleased to take on the 65th birthday Tree pledge.


Everyone living in or visiting the Pacific Northwest area is welcome to participate in this effort to preserve nature and plant trees. You may read about our progress and RSVP by checking here.






When you plant your tree or trees, please send photos of it and/or your tree-planting stories to info@greenfriendsna.org.