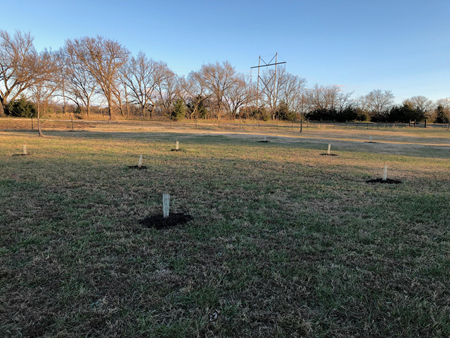 30 redbud trees planted in Oklahoma
Shyamala Speth guessed she was ready for a new adventure when she set out to plant 30 redbud trees, but it was an adventure dedicated to Amma. Her worst fear was that the trees would die or get eaten, so she put rabbit netting around them, plus weed protector and mulch. She hauled water and chanted the mantra, "Om Shanti, Shanti, Shanti".

She visualized beautiful strong trees that would flower in the spring to produce food for the bees and other tiny creatures - trees that would root deep within the earth and protect the soil. It was an amazing experience to prepare and to plant and water because she normally doesn't do such projects.

Shyamala found that there are many things devotees will do for Amma, frequently things they're not used to doing. It's because of Amma we try. Thank You Amma!