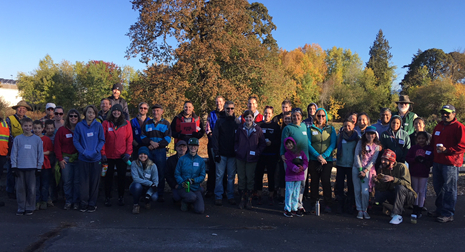 Volunteers gather for Upper Fanno tree planting
The Portland satsang joined Friends of Trees on Saturday, October 13, 2018 to serve the City of Beaverton and Clean Water Services at the Upper Fanno Wetland. Hundreds of native trees and shrubs were planted to green this special site. Volunteers experienced some very poor soil conditions (e.g. really rocky!) that made planting challenging, but it didn't stop them. In fact, some significant trash seva was also accomplished on site.

More than 40 volunteers planted 499 trees and shrubs, which are now settling into their new homes, eager to soak up the coming rains and waking up to some much needed sunshine as well. Not only were nearly 500 trees and shrubs planted, but also two cubic yards of mulch was spread and another two cubic yards of soil was mended.

When you plant your tree or trees, please send photos of it and/or your tree-planting stories to info@greenfriendsna.org.