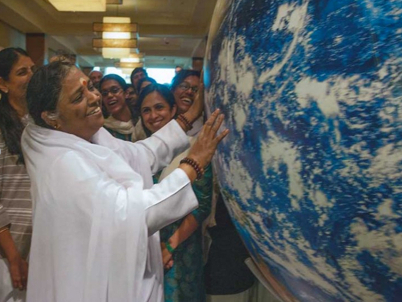 Amma has asked that we begin to concentrate our efforts of sustainable living on SOURCE REDUCTION. This means stopping waste before it begins. Instead of recycling plastics and other throw-away products that need to be processed for reconfiguration into another form, we need to start using products that are designed to last, or find an alternative way of living that eliminates the need for the product altogether. As stated by Maryland's Department of the Environment, "Reduce or reuse first, then recycle".

Source reduction saves the earth by:
Reducing pollution
Conserving natural resources
Putting less trash in landfills
Reducing energy usage
Reducing transportation costs
Because of Amma's desire, GreenFriends will conduct a Source Reduction Campaign (download the PDF) throughout North America. The goal is to encourage Amma's children to take steps toward Source Reduction by providing them with the information needed to make wise decisions and implement new ways of doing things in their lives.
According to the National Council of State Legislatures, many US states, counties and municipalities have enacted legislation with various degrees on bans on plastic bags,

States include Arizona, California, Delaware, District of Columbia, Idaho, Illinois, Maine, Missouri, New York, North Carolina and Rhode Island.

Cities with plastic bag bans: Austin, TX Cambridge, MA. Chicago, IL, Los Angeles, CA, Santa Fe, NM, San Francisco, CA and Seattle, WA.

Cities/Counties with plastic bag fees: Boulder, CO, ​Brownsville, TX, Montgomery County, MD. New York, NY, Portland, MA and Washington, DC.